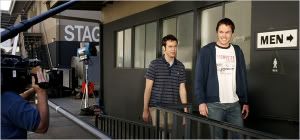 One of the most talked about sitcoms in the US is actually a non-broadcast pilot for the WB network called
Nobody's Watching
that has ended up online at
YouTube
. The WB panicked, believing the audience would be too confused with the show's show within a show shenanagans, and dropped it from the schedule at the last moment.
However, now that it's heading for half a million downloads, NBC have given a six episode order. Kevin Reilly, the network's entertainment president said: "I love the spirit of the experimentation, and I think if we can actually have something find an audience on the web, gravitate over to the network, continue with a web presence and have them feed each other, that could end up being a really cool thing."
The following from the
New York Times
:
'The man at the center of the story is Bill Lawrence, creator of "Spin City" and "Scrubs." Mr. Lawrence knows how insane the television business can be. For example, for a few years after "Scrubs" made its debut on NBC in 2001, all Mr. Lawrence heard from network executives was that the show would never be a hit because it was a single-camera filmed comedy. Only multi-camera taped comedies worked, he was told.
In the last two years Mr. Lawrence said, he has gotten into arguments with network program chiefs who have told him, "The multi-camera comedy genre is dead."
'Both stances struck Mr. Lawrence as ridiculous. "The challenge," he said in a telephone interview, "was to reinvent the genre." That was the goal of "Nobody's Watching," which Mr. Lawrence conceived with two writing partners, Garrett Donovan and Neil Goldman, who had both worked on the Fox animated comedy "Family Guy."
'Their thought was that most traditional sitcoms had begun failing not because of form but because of quality: they were all bad. And so they created a couple of characters, Derek and Will, from Ohio, who believed the same thing, and they decided to let them try to make a show of their own.
'The gimmick is that the two characters come to California to make their own sitcom, but at the same time they are doing it in the form of a fake reality show conceived by some fictional network executives.'
Watch Nobody's Watching